This year's  GASB SynBio World Cafe: "What stops the SynBio revolution in Germany" focuses on the different aspects that SynBio Startups are facing. The proven concept of the SynBio World Cafe aims to bridge between the academic and industrial SynBio world and to further connect them to stakeholders from the legislation. The mixed World Cafe participants range from academics, entrepreneurs, industry representatives, venture capitalists to legislators. They will engage in discussion about different topics: funding, entrepreneurial spirit, politics & governing, patents & regulations, as well as laboratory access & automation. Between the different discussion sessions, SynBio stakeholders will give short inspirational talks to nucleate discussions.
Besides talks and group discussions, there will be the possibility for virtual networking.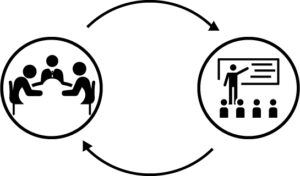 The SynBio World Cafe will be closing with a quick wrap up from the different topic tables that will be the base for a call of action prepared by GASB and the Hightech-Forum.